Children's Parties - what's included?
We have a range of party packs for you to choose from : plate, mug or bowl at £15 and animal party or princess party at £18 per child.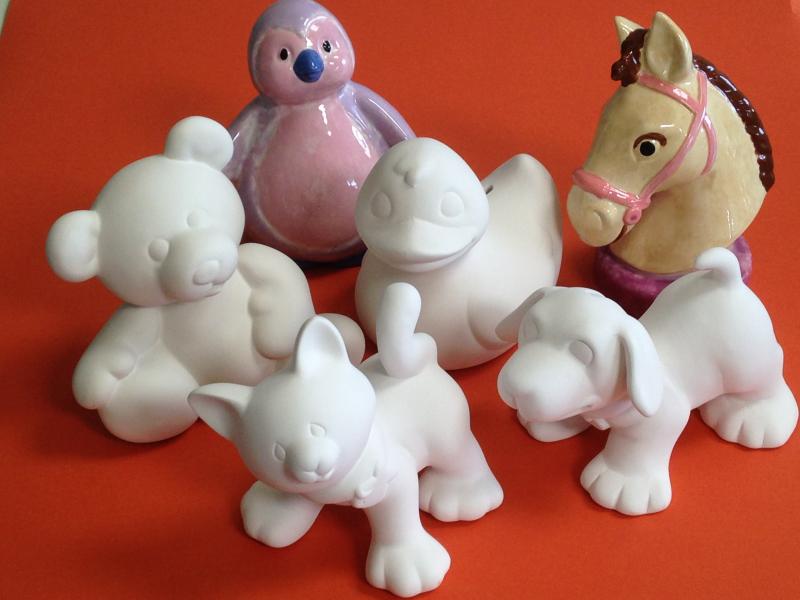 This includes the cost of the ceramic item and specialist ceramic glazes plus glazing and firing. Our friendly staff will give personal instruction to help you and your guests have a fantastic time.
A £20 non-refundable deposit will be taken to secure your booking; this then pays for a commemorative plate for the birthday girl or boy, a birthday cake, squash for the children and a coffee or tea for the parents of the birthday child. We would organise the party guests to place their finger prints and names around the rim, a handprint of the birthday girl or boy in the middle and then finish the plate with their name and which birthday they are celebrating.
How many children can I invite?
The prices are based on a minimum of eight children painting Monday to Saturday or ten children on a Sunday and we can accommodate up to 24. If the number of guests fall below these numbers on the day then the minimum number will be charged.
How long is a party?
Parties run for 1½ hours, allowing approximately 1¼ hours for painting and 15 minutes for drink and cake.
We may have other bookings in the day and space is limited, so please ensure your guests are collected promptly at the end of the allocated time.
Can I have other party food as well?
We offer a party menu at £4.50 per child. This includes a selection of sandwiches, crisps and popcorn. Cherry tomatoes, cucumber and grapes or banana may be included in addition at an extra cost of £1 per child.
Children will paint for just over an hour before the tables are cleared and food served.
Food must be ordered at the time of booking. Please do not bring your own food or snacks (accept for a gluten or dairy free alternative to birthday cake for any guests with dietary requirements).
Party times
Children's parties may be held on any day of the week, generally at the following times :
Monday to Saturday - 10.00a.m until 11.30a.m., 3.30 pm until 5.00 pm or 4.00 pm until 5.30 pm
Sunday - 2.00 pm until 3.30 pm
If you hold your party on a Sunday you will probably have exclusive use of the studio (minimum of 10 painting). Speak to us if you would like any different times - it may be possible.
Just pop in to the studio to discuss your requirements and view the party packs on offer. We will take a £20 deposit to secure your booking, then relax and leave the rest to us!
Final numbers need to be confirmed at least the day before the party.
Party clothes
Ceramic paints (glazes) are washable and will not stain clothes, they will wash out without pre-soaking, although 'sensible' party wear is recommended as painting aprons are not provided.
Finished Ceramics
We will contact you when your ceramics are ready for collection - usually between 7 and 10 days. We will wrap each ceramic and write the child's name on the paper for easy identification and distribution.
Parents of invited children
Your party will probably be sharing the studio with other customers and therefore there may be limited space for accompanying parents to stay. If parents are staying it would be useful if you could specify in advance whether you will be paying for coffee/tea for them or whether you would like us to collect payment for them individually. For the safety of the children all parents will be served hot drinks at a table.